About Us
From the Director of Catholic Education, Diocese of Wagga Wagga
Catholic Education, Diocese of Wagga Wagga (CEDWW) serves twenty-four primary schools and five secondary colleges. Our staff support principals and school staff in their work around maximising student learning, growth and development including;
Professional learning
Strategic planning
Renewal and development of school leadership personnel
System Monitoring
Registration and Accreditation
Liaison with the NSW Education Standards Authority (NESA)
Advice and support for the Director of Schools
Staffing
Processes that advance the resolution of concerns
School-based projects
Catholic Education team members have responsibilities for supporting schools with Learning and Teaching, Faith and Care, School and System Improvement, Finance and Resources, Information and Communication Technologies and Human Resource Services.
Yours sincerely,
Dr Andrew Watson
Director of Catholic Education, Diocese of Wagga Wagga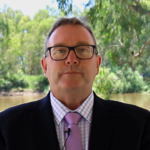 About Us
Vision and Purpose
I came that they may have life, and have it to the full – John 10:10
Inspired by the message and actions of Jesus Christ we nurture excellence as a Community of Learners, so all may flourish in the fullness of their humanity.
Theme for 2022
This year's theme for our system of schools (CEDWW) is adopted from the theme for the 2021-2022 World Youth Day which reflects the evangelising focus of Pope Francis and Bishop Mark Edwards. The theme is:
Arise. I appoint you as a witness of what you have seen. (Acts 26:16)
and as such we are all called to: "Arise and bear witness".

About Us
Our Diocese
The Catholic Diocese of Wagga Wagga is located within Wiradjuri country in the Riverina and southwestern district of New South Wales. The Murray and Murrumbidgee Rivers are significant geographical features of the area with the eastern border of the Diocese lying in the mountainous regions of the Great Dividing Range.
Established in 1917, the Diocese of Wagga Wagga has a rich faith tradition; our faith communities are nourished and sustained by the sacramental life of the church administered and accessed through 31 parishes.  The Most Reverend Mark Edwards OMI is our Bishop.
Catholic Education, Diocese of Wagga Wagga comprises 29 schools – 24 primary and 5 secondary. Boarding facilities can be accessed by 3 of our secondary schools.