Careers
CEDWW People and Culture
Visit our comprehensive Career site for information on:
And more!
---
Current Employment Opportunities
Employment
Why is Teacher Accreditation Important?
Accreditation celebrates quality teaching and inspirational teachers.
It means that teachers must have a teaching qualification, meet quality standards and keep up to date.

It builds collaborative, reflective and evidence based teaching culture.

It supports teachers continuous development.

It contributes to student achievement and wellbeing.

It ensures the quality of the teaching profession.
The foundational document that outlines the standards for Teacher Accreditation in NSW is the Australian Professional Standards for Teachers
The diagram below is a visual overview of accreditation at various stages and levels: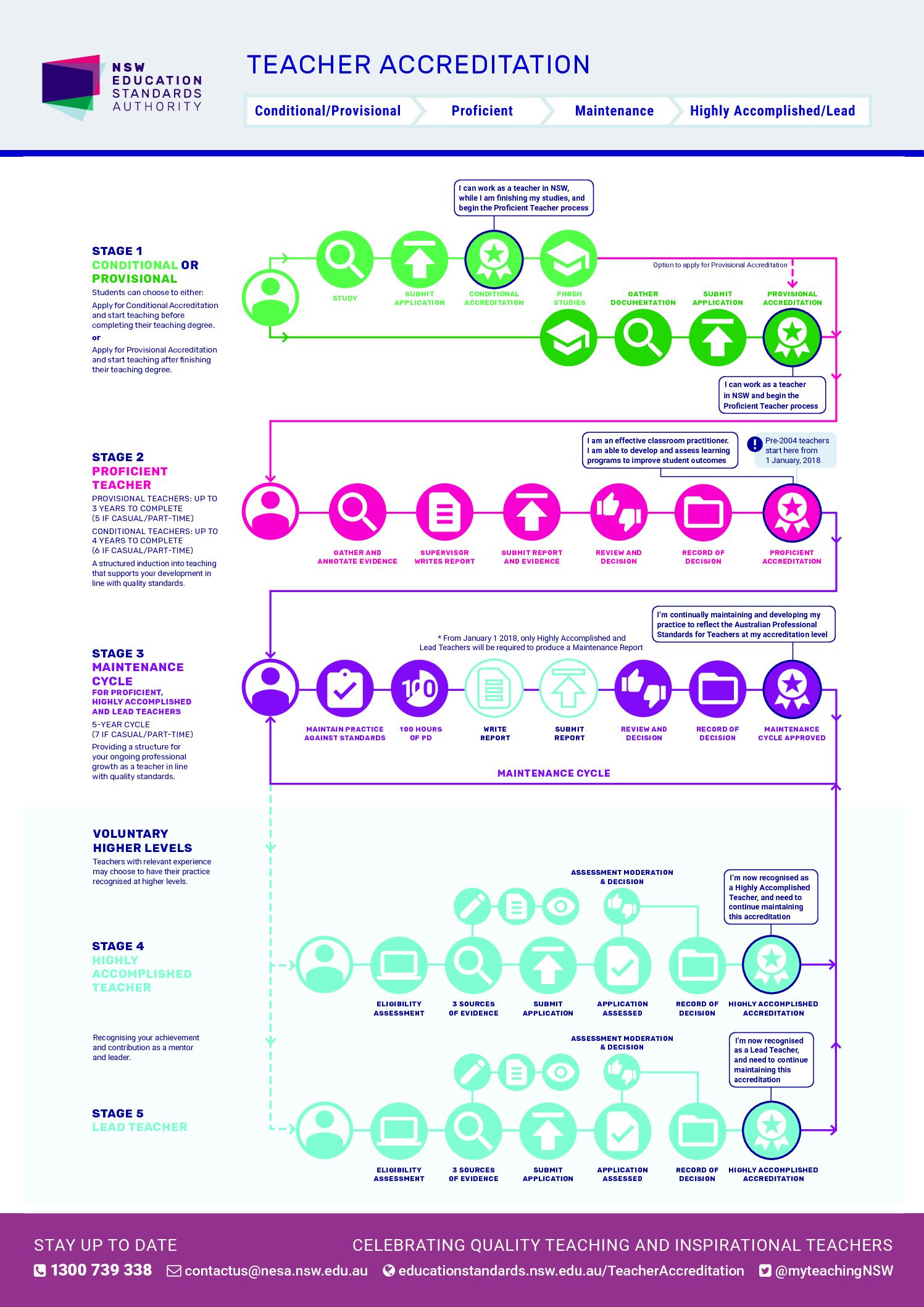 Related Links
NESA Guide to Accreditation
Follow NESA on Twitter @myteachingNSW
Employment
Accreditation to Work, Teach and Lead in Catholic Education
Purpose of Accreditation to Work, Teach and Lead in Catholic Education Policy:
To assure Catholic Identity of Catholic Education, Diocese of Wagga Wagga
Formal recognition that all employees share in the responsibility of maintaining and growing the mission and purpose of Catholic education
In line with all Dioceses in New South Wales, there are five categories of accreditation:
| | | Description |
| --- | --- | --- |
| Category A | | Accreditation to Work in a Catholic School and Catholic Education, Diocese of Wagga Wagga (all support staff and CEDWW Heads of Administrative Teams) |
| Category B | | Accreditation to Teach in a Catholic School (all teaching staff) |
| Category C | | Accreditation for Leadership in a Catholic School (KLA & Pastoral Care Co-ordinators/ Leaders, CEDWW School Service Officers) |
| Category D | | Accreditation to Teach Religious Education (all RE teaching staff) |
| Category E | | Accreditation for Senior Leadership (RECs, Leaders of RE KLA & Mission, Liturgy/Justice Co-ordinators, Principals, Assistant Principals, CEDWW School Service Team Lead, CEDWW School Service Consultants, Assistant Director of Schools, Director of Schools) |
Click here to view the Accreditation to Work, Teach and Lead in Catholic Education, Diocese of Wagga Wagga Policy